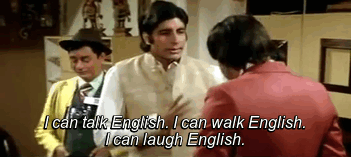 In the previous article "English-Fear of Nation", we discussed how English is our biggest fear and how it is integrated into our society. Now, many of us would want to know how to fight and defeat this fear. We can ask this to Google Baba and find the ways, pretty simple!!!! The Most popular solution to learn English is, read books & mug up the grammar rules.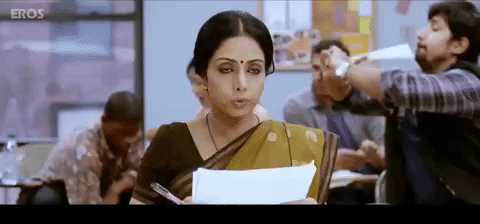 But we all start learning this way and approx in two weeks we bend down to our knees. What to do now??? Learning English is a long process, you have to give time.
It's too hard to speak one language which is popular but not used in your daily life. Yes, it's good to write English for texting but when you try to speak in public you should be ready for "Pachka"( An embarrassing Moment).
I remember one incident where there was one high-class man asking chilled juice from a worker. Poor lad didn't know what "Chilled" meant so he thought it was a different type of juice and with blank face replied "NO".
Everybody laughs on that man who was speaking English and told him why he wants to speak in English as this is India only, not any foreign country. This type of incident makes your moral down sometime. You have to be careful where to show your English Speaking Skills.
English is practically not possible to use at all the places as most of us are using Hindi as a common language even in Profession. There was always a hesitation where to start as in learning phase you don't have the confidence to speak with the expert.
I will share my experience of how I get over this fear.
I am a Gujarati Medium student so never tried rigorously on speaking English (even not in writing). We just have to mug up the 3-4 typical essay and settle down good scores. But you will find need of speaking English fiercely while joining higher studies like Engineering/Medical etc.
As all our higher studies require English knowledge we feel stuck as we got rid of English Subject by mugging up one textbook to clear exams without worrying for the future.
I very well remember the first day of Engg. College, the students from Gujarati medium were looking for seats in the back. When a question comes from professor half of the times it is answered by high-class English medium students who instantly gets in good books of professors.
Most of the time we actually want to understand what is the question so if it passes to the first row we understand what is asked, the reason why we did not take the first row of class. I felt a bit lower class and decided to leave engineering because of this fear of English.
Somehow I am not faithful about my own decision so I decided to wait. I realized you should know just 1-2 lines to ask a question and then you can fall back to Hindi/Gujarati after very first line.
I applied this self-made formula in my all semesters and it worked. So, you just require initiating after that we manage to go further, it's a temporary but a definite solution to all non-English speaker who does not have confidence to start.
The only thing required to overcome this fear is CONFIDENCE. Yes, even if you don't have knowledge of English, you just need to have the confidence to speak up.
In India, there are many people who know English very well and can write so nicely but they are not confident. Even if you are speaking wrong, have faith in yourself (even have blind faith in others that they are same as you!!!!!). I know it sounds stupid but it's true.
Once you are confident to speak English publicly you'll realize no one notice how grammatically correct or incorrect you are.
Now, we have wonderful bliss in form of technology which provides the AutoCorrect option so in writing you can start with this trick. Write whatever you wanted to say and see what are the corrections you are supposed to do.
I am using one special trick from my school days for Grammar. To find a correct answer I just check the options and try each one to find which one sounds better. The success ratio was 70:30 in my case.
Always confused about grammatical terminologies like Active-Passive, Past Participle and all that… Never really work hard on grammar always think about how it sounds and if it's a bit awkward to listen than there must be something wrong.
This is the power of language, you feel the meaning of a word by just voice. Even if it's not your language if it is pleasant for ears it works.
I hope all of you must have heard these songs "Gangnam Style", "Despacito". They are the best examples as no one knows what hell the singer is singing, we just became insane for these songs.
We don't have to take too much stress about learning grammar as you'll learn it by your experience. People who are not so good in the English language settled down in a foreign country deal with English, gradually they overcome it by their experience.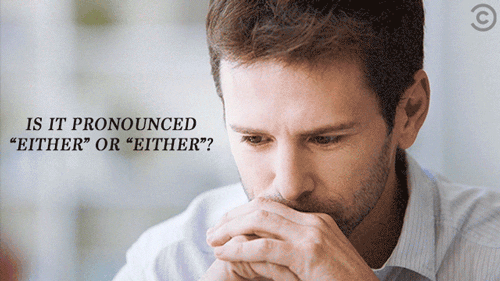 We have AutoCorrect Option, so use it and learn from your mistakes. Your Computer should be confused how it can find grammar mistake in your sentence and just give you only one option "Ignore Once"!!!!! When you will reach that point you will come to know how you could defeat it.
Second important thing is "THROW THE GUILT".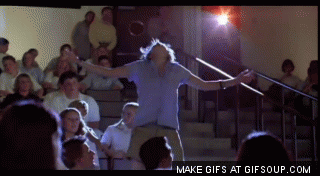 90% of us can't speak just because people will laugh so let it be, feel free to make mistakes. As we always feel deep guilt that we are not as good as foreigners. Do Foreigners have any guilt of not knowing Hindi??? That's their mother language so they have edge over it. Why do we worry so much about damn English pronunciation and grammar? Even Americans are grammatically not so correct. They speak in their own way. So if you really want to speak English you must hate it the most, think that it's not too good as your own language. After that, you will start learning because then only you learn it for your own betterment, not for others.
Third important thing is "LEARN FANCY WORDS" if you have an array of good fancy words you can easily hypnotize others. It works magnificently to convince others that you have a deep knowledge of English.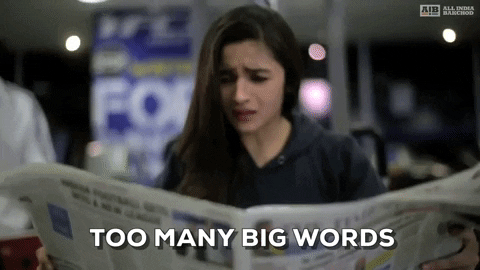 I don't remember words when I have to speak as we generally don't know much words. What I did initially is to start listening to the news in English (especially news translations).
DD National is best for beginners (As anchors are not so attractive and not speaking so loudly, we can concentrate on words). Listen first in Hindi and after that in English (you can see the translation on other news channels).
To learn Fancy English words or to increase your vocabulary you can start watching Movies with subtitles. You can also start to read books in case you're not afraid of them!!!! Books give you both sentence sense and an array of good words to learn.
JUST START IT BY THIS WAY OR ANY OTHER WAY UNTIL YOU DEFEAT IT.
At last, one thing you have to do with this fear is to face it, let people laugh at you because you have to get rid of it for your own sake of life.
THE SECRET OF GETTING AHEAD IS GETTING STARTED
Well, this is my story, now it's your turn to share your story how you defeated the fear of English. Share or comment on the same to inspire others.
Pin this image to read later: